Weekly Plan
£ 2.90 per week*
Annual Plan
£114 per year*
Carelink alarms are the ideal way of curing any confidence issues you have in your home. Our excellent system is aimed at elderly people and those with disabilities here in the UK. We not only ensure help is always available, but to help improve lives.
Some older people and those with disabilities lose their self-confidence if they are living alone. The thought of falling over or becoming unwell can be worrying. Before Carelink24 they may have been left with no help for days before someone noticed they needed assistance.
Carelink alarms can change all of this, in an affordable and stylish manner.
How Carelink Alarms work
The Carelink alarm systems comes in two easy-to-use parts; the Lifeline Vi Base Unit and the MyAmie Pendant device. After a quick installation – of which a guide will accompany your alarm in the post – you are ready to connect to our highly rated 24/7 Care Team. This team is your very own 'help and safety assistants' during your time with us.
If you have an accident or feel unwell whilst in your home or in the garden (within 100 metres of the base unit) – then all you do is press the big red button on your pendant or alarm unit.
The Care Team will receive an alert that you need assistance and they will call you over the alarm's loudspeaker. The loudspeaker is very loud so don't worry if you're not in the same room as your unit. If the care team is unable to hear you, they will try your landline phone, before sending help automatically if they don't have a response.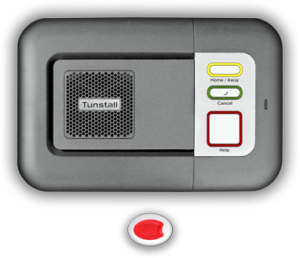 Our team will assess your situation and take action by calling for your emergency contacts. These are the people chosen by you to come to your aid in an emergency. The contacts normally consist of family members, neighbours or your closest friends.
If you require medical attention then the emergency services will also be contacted on your behalf, with medical information being shared with them so that they are in the best possible position to help you when they arrive.
It really is as simple as that! One click leads to plenty of help being sent to your aid.
How does this help?
Once you have one of our Carelink alarms installed in your home you will begin to see the difference in your mindset from the get-go. Having the MyAmie Pendant around your wrist, or neck means that help is literally a few seconds away with just one click of the red button.
This fact is great for the mind. You can wake up in the morning knowing that if you have a fall or feel unwell, all you have to do is press one button. A person's self-confidence is vital. It really can change your mood for the day.
You will feel more comfortable with moving around your home and garden because you know that help is there.
It will also make you feel better that by having an alarm, you are also giving your family peace of mind that you have a 24/7 team waiting to help you if the worse should happen.
Buying a Carelink Alarm
You can buy a Carelink Personal Alarm either through our trendy website or over the phone with a member of the sales team on 0800 007 6247.
Our Carelink alarms are available on two different price plans so that you can make the best financial decision for yourself or for your loved ones. We have the weekly plan which includes a setup fee of £45, followed by an initial payment of £37.70. After this our alarms work out at JUST £2.90 per week.
The Annual Plan will cost you a fee of £114 per year, with the first year paid upfront, along with the same setup fee of £45.
Whichever option you choose we will be here to help you! If you have any further questions please don't hesitate to give us a call today! That number again is 0800 0076 247.
We look forward to hearing from you soon!