Now that spring is here again, that means it's also time for Easter. Whether you observed lent or not, Easter is a time for sweet treats without guilt. That's why we have created our list of five Easter treats for you and your loved ones to enjoy.
The Origins of Easter
It's common knowledge that Easter is a Christian celebration. Traditionally, it marks the resurrection of Jesus Christ after the crucifixion. However, it has roots in Jewish Passover and pagan rituals too. In fact, it is believed the word 'Easter' is derived from a pagan goddess of renewal named 'Ēostre'.
With these origins in mind, it's not surprising to discover that there are all sorts of different Easter treats. Some were introduced when Easter became a Christian celebration, but others predate this by several centuries. Regardless, they are all enjoyable and hold special meaning this time of year.
5. Easter Roast
Our first Easter treat isn't as sweet as you might expect. However, the Easter holiday is a perfect opportunity for getting the family together for a delicious roast lunch. There are so many options available when cooking a roast. Will you cook lamb, ham, or something different? Roast potatoes or mashed? Peas, carrots, or both?
It is also a chance for socialising. Invite your children over with the grandkids. Maybe you've got some old friends who are free for a feast. Good food and good company will give your mental health a boost as well as letting you indulge in your favourite foods.
4. Crumpets
This may be an unexpected addition to our list, but crumpets have seen a surge in popularity recently. For Easter, why not buy some rabbit-shaped crumpets and slather them in butter? Treat yourself! Why should only the kids get to eat them?
Crumpets are a great choice for breakfast, too. Whilst you shouldn't feel guilty about a treat at Easter anyway, crumpets are low in calories, sugar, and fat. This makes them a positive choice for starting your day, as well as a nice treat throughout.
3. Hot Cross Buns
A true staple of Easter, over the years new varieties of hot cross bun have been introduced. The classic recipe consists of various spices mixed with fruits, usually currants or raisins. More recently, however, supermarkets have started introducing alternative flavours.
Why not grab a few different types and give them a try? You can indulge in blueberry, chocolate, or apple hot cross buns. For more savoury Easter treats, some retailers are even selling cheese and onion buns. Whether you toast them or eat them soft, hot cross buns are one of the best things about Easter.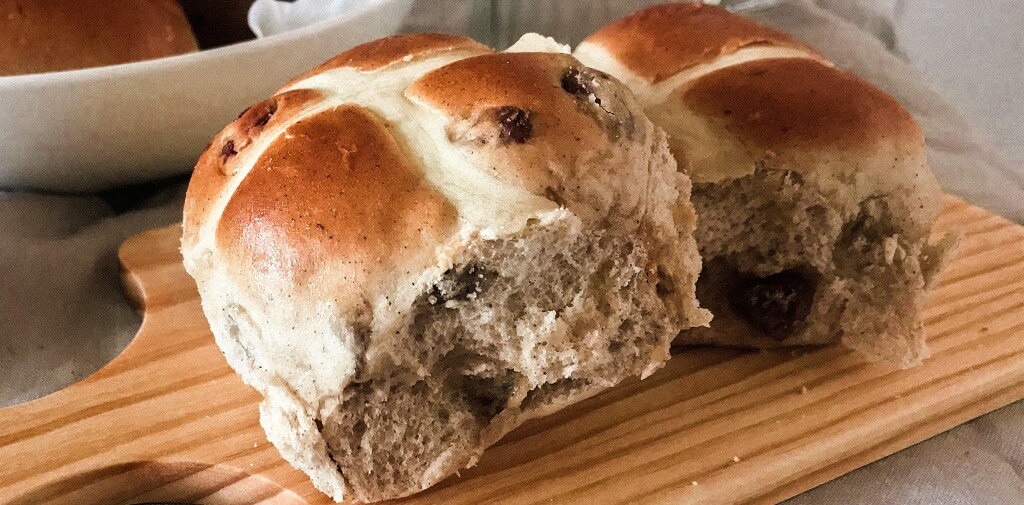 2. Pretzels
Did you know that pretzels are a traditional Easter treat? Early Christians would eat pretzels throughout lent right up until Easter. They were easy to make because they require only flour, salt, and water.
Nowadays, like hot cross buns, there are various recipes available. You could choose to eat a more traditional flavour, but why not try chocolate pretzels? Pretzels can also be baked to a more bread-like consistency. Just remember to knot them properly; this shape is designed to represent prayer.
1. Easter Eggs
When you think of Easter, you probably think of chocolate all around your grandkids' mouths. Since the early 1900s, chocolate Easter eggs have been one of the most popular Easter treats. Traditionally, eggs represent rebirth, both in Christianity and other beliefs.
Nowadays, and rightfully so, they represent a few days of indulgence. It is a true treat for young and old alike. After all, why should your grandchildren be the only ones to enjoy some chocolate? There are so many varieties of Easter egg available, too, from plain milk chocolate to white chocolate with chunks of cookie inside.
Staying Safe at Easter
While you're indulging in some well-deserved Easter treats, it is reassuring to know that you are always in safe hands. A personal alarm from Carelink24 means you can request help at the press of a button, day or night, 365 days a year.
To find out more about our alarm service, check out our detailed guide. If you have any questions, please do not hesitate to get in touch with our helpful team on 0800 0076 247 or fill in our contact form. Finally, be sure to look through our blog for more fun and informative articles.