No matter your age, dating can be an intimidating game. Especially if you have been out of the dating scene for a long time. Many elderly individuals feel that dating is a young person's game, but it's time things changed. Senior dating can open up new doors and opportunities.
We're in a time where we are living longer, eating healthier, staying fitter, and more adults in their senior years find themselves single, through divorce or a tragic loss of a partner, and are now looking for companionship. We're all human and one thing that's a fundamental part of human nature is that we don't like to feel lonely.
So, here are five things you need to know about senior dating that will guide you through this new uncharted territory and give you the confidence to take it all in your stride.
Age Doesn't Matter

Age is a secondary thought as you get older. The actual number of our age becomes less significant. It's important to know how healthy we are and what activities and hobbies we can do.
This echoes into how we choose companionship. It's more about the personality and that common interest that is the foundation of intimacy.
Besides, there's no doubt the feeling you will get meeting someone new and that new spark will have you feeling like you're 21 again!
There's More to Someone Than How They Look
The older generation is wise enough to know that how someone looks should be down towards the end of the priority list when seeking out a partner or companion as it doesn't determine how kind, loving, or fun that person is.
This is because the physical nature of attraction changes as we age and our perception of 'sexiness' is more a feature of personality rather than a feature of how you look.
Know What You Want
Many elderly individuals who begin dating again are looking for companionship and nothing more. It is not uncommon for us to have multiple needs of companionship. A companion to travel with, a companion to play bowls or bridge with, or a companion to have dinner with.
The needs of multiple social needs may not be a requirement of just one companion and it is worth acknowledging that your needs can be spread and your social interactions will reduce any feeling of isolation or loneliness.
What to Do on Dates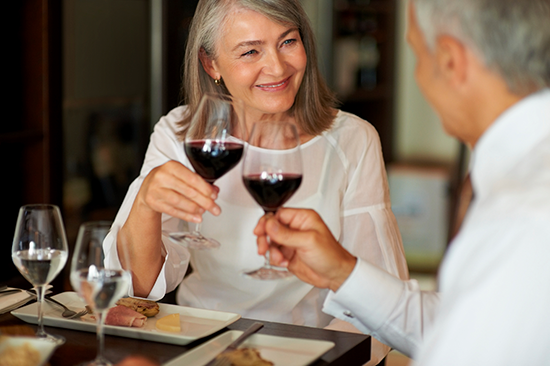 Dating should be fun and comfortable, if you don't feel comfortable to go alone keep in mind group activities or a double date. There are great options for senior dating and elderly couples, such as:
The cinema or the theatre
Museums or art galleries
Going for a walk on the beach or a nice park
Wine tasting event
With so many options available you will have plenty of choice to enjoy. Carelink24's suggestion for a date is a nice dinner at a good restaurant. It is important to be able to talk and get to know the other person and dinner is a great way to get out with good company and good conversation.
Online Dating for the Elderly
There's a stigma surrounding online dating but there is a real benefit to giving it a go. Elderly online dating is the fastest growing segment of online dating. Rightfully so as there are specifically designed websites for older people so you can feel confident and secure.
Online dating gives you access to many possible companions that can you can filter to find a good match. Online dating websites allow you to search people through their interests, hobbies, books or movies they like and they include pictures so you know who they are if you decided to start a conversation. Dating in itself can be a daunting idea and if you feel shy or uncomfortable directly meeting someone, online dating gives you the perfect opportunity to talk to people without the awkward face to face meeting until you are comfortable enough to do so.
Senior Dating
There you have it, Carelink24's five things to know about senior dating. We know how hard the concept is meeting new people and going on a date. However, there is a whole world out there for you to enjoy with the company of a new companion. It's important to remember, that whether you find friendship or love, you are never too old to meet new people.
Editor's Note: This article was updated on 16th May 2022 to reflect current information.