Sadly, a common assumption is that the elderly community is either past the ability to be active. Or, the only activities and options out there are bowls or pilates. However, we disagree with this completely. After doing research into different physical activities, we have found many different clubs and activities all over the world that will inspire you to join something new in order to keep fit and healthy!
So, what activities did we find?
Tokyo Rugby Club
Japan is hosting the Rugby World Cup this month so we thought we would begin here. We discovered in Japan more and more elderly people are getting involved in rugby. Without a doubt, a sport you might not imagine! With all the tackles and scraps?! Well, 150 clubs in Japan stage competitive matches for players above the age of 40 – and Tokyo's Fuwaku Rugby Club has three over 90s! Of Japan's 120,000 rugby players, about 10,000 are over the age of 40.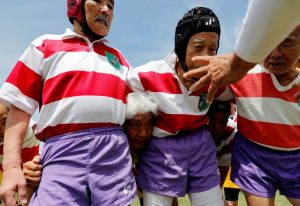 Photo source: BBC
But don't worry… Indeed, as a practicing doctor and Tokyo Fuwaku player, Mr Nagayama is very aware of the risks involved in playing a high-impact sport at this age. For this reason, the club's website gives detailed advice on health precautions and includes links to a life insurance company to keep their players safe and our of danger.
What do the players think?
Ryuichi Nagayama, 86, says: "You tackle and battle each other but the gathering after the play is so enjoyable and fun."
"We talk about how each other plays and no-one gets angry about how we played. The atmosphere is great."
Cheerobics
Next, something a little bit more for the ladies… Going East on the map, we are looking at the awesome activities available for the Korean public. A group of Korean women in their 70s have used 'cheerobics' to find new freedom in their older age. To summarise, cheerobics is the perfect mix between aerobics and cheerleading. Cheerleading brings encouragement for the team combined with the focus of relaxing muscles in the body of pilates.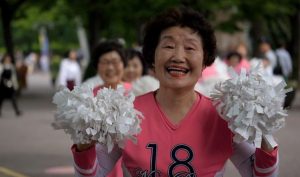 Photo source: BBC
Fact –  Women born in Korea are predicted to be the first to have an average life expectancy of over 90 by 2030.
One member of Team Nang Rang explains how she thought it was natural to get wrinkles and sick with age, but now she encourages people to just go out and exercise. Cheerobics changed this. 'You become healthy only if you feel happy'.
So… What is stopping you? Get yourself or your loved one out there! Check out what is available locally or maybe even get something new going… We agree with the teams from South Korea and Tokyo, a happy body is a healthy body.